Available Camping Articles
The eight wilderness areas are spread primarily across the southern part of the Show-Me state. Most, but not all, are south of Interstate 44. Most have hiking trails that will take you into their interior and all emphasize the "Leave No Trace" ethic. First, we will take a quick look at each, and then look at the Leave No Trace "rules."
1. Bell Mountain Wilderness
Bell Mountain Wilderness is approximately 9000 acres in size. It is located in the St. Francois Mountains which comprise the highest mountains in Missouri. The highest point is 1702 feet at Bell Mountain. Part of the trail system in the Bell Mountain Wilderness is a portion of the Ozark Trail (about one mile total). From there, the trail turns off and heads up Bell Mountain. There is a total of 12 miles of trail, mostly very difficult in nature, and camping must be done at least 100 feet from the trail. Other camping issues will be discussed later.
The closest route to the Wilderness can be found from Potosi, Missouri and is about a 20 mile drive. More precise directions can be found via the USFS website.
2. Devils Backbone Wilderness
Devils Backbone Wilderness Area is just under 7000 acres total. It is located in South central Missouri near West Plains (approximately 15 mile drive). There is approximately 13 miles of trail used by foot and is also open to equestrian traffic. Its name is for the central ridge where most of the trail is located, at its highest point reaching 1020 feet in elevation. The trail system is reasonably doable for the moderately "in-shape" hiker/camper. The North Fork Recreation Area provides a campsite area if the visitor wishes to camp there and simply hike the wilderness area. Otherwise, general wilderness area rules apply. More precise directions as well as maps can be obtained through the USFS.
3. Hercules Glad Wilderness Area
This stunningly beautiful area is located in the deep southern reaches of Missouri. This wilderness is over 12,000 acres in size and may be one of the most beautiful areas in the Midwest. The area can be reached leaving from Bradleyville or Forsyth, and is about 8 miles from each. This wonderful area has over 30 miles of maintained trails, but if one wishes, day or afternoon excursions can be done on short branches of this trail system. It should be noted that many streams are not equipped with bridges and trails range from moderately to very difficult. Again, more information, directions, and maps are available through the USFS.
4. Irish Wilderness
The Irish Wilderness has a lot going for it. It has rich history, it has many water related recreational opportunities (the Eleven Point River), and a great trail system. The Irish Wilderness has over 16,000 designated wilderness acres. There are 3 major trail heads in the wilderness, but one is only accessible after a float in on the Eleven Point River (White Trail head). The Camp Five Pond Trail head is usually accessed leaving out of Doniphan, Missouri, and is about a 35 mile drive. It should be noted that this trail is used extensively by horseback riders. The Brawley Pond Trail head is a ways past the Camp Five Pond Trail head and receives a little less equestrian traffic in our experience.
5. Mingo Wilderness
This area is a little less than 8000 acres and is managed by the US Fish and Wildlife Service. It is a portion of a much larger Mingo Wildlife Refuge and a refuge for many migratory waterfowl. It is a diverse area interspersed with marsh areas as well as typical Ozark geography. It is located in Missouri's "bootheel" region.
6. Paddy Creek Wilderness Area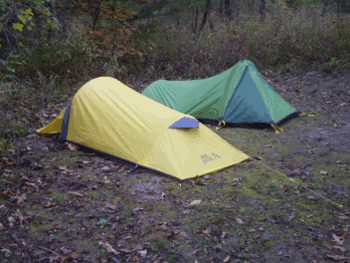 Approximately 7000 acres in size, and is in the beautiful Big Piney River area. There is a trail system that is a loop of about 17 miles in total. Markings on this trail are not prominent, so a map, compass, and/or GPS are a must (never rely solely on a GPS unit). The trail begins at the Roby Lake Recreational area. There is also the Paddy Creek Recreational area with 21 single sites. The area is located approximately 20 miles from Roby, Missouri and specific directions and maps are available through the USFS.
7. Piney Creek Wilderness Area
The Piney Creek Wilderness is approximately 8000 acres in size and is about 35 miles from Branson, Missouri. There are over 13 miles of trails in this wilderness area. This wilderness area contains the watershed for Piney Creek and feeds Missouri's famous Table Rock Lake. More information is available through the USFS.
8. Rockpile Wilderness Area
This is Missouri's smallest wilderness area (around 4,000 acres) and is mostly surrounded by private property. Despite this, it is a beautiful area. There are no permanent water sources, save some ponds built prior to its designation as wilderness, to trap springwater and provide watering holes for the abundant wildlife. There is only 2 miles of designated trail but some abandoned logging roads from years past. It is named for a pile of granite stone erected by some human inhabitant from years ago. More information can be found through the USFS.
Plan Ahead and Prepare
Travel and Camp on Durable Surfaces
Dispose of Waste Properly
Leave What You Find
Minimize Campfire Impacts
Respect Wildlife
Be Considerate of Other Visitors
These principles are bare minimums for these fragile areas.
In the state of Missouri there are over 900 properties operated by the Missouri Department of Conservation (MDC) as "Conservation Areas." These Conservation Areas (CA's) can be operated for a variety of purposes. Some are managed as nature preserves, some allow hunting, some allow fishing, some are mainly boat accesses, and some are combinations of all or some of these. If you are considering a camping trip to a CA, it is wise to know what the area is used for primarily, and also to make sure camping is allowed. For example, if you are not camping in an area for hunting purposes and will be camping during the Fall deer firearms season, you might not fully enjoy your stay.
One of the areas we have used that offers a bit of everything is Peck Ranch Conservation area in the Ozarks of Missouri. While it is not representative of all CA's, it does suggest what some of those that are most amenable to camping have to offer. There are two designated camping areas at Peck. One is designated for campers who will not use generators and one for those who will. This is nice for those tent campers who wish to have peace and solitude without the noisiness of a generator blaring in the background. At the non-generator site there are also pit toilets. Both campgrounds are outfitted with fire rings and picnic tables. This is most certainly an example of a campground where there is much activity associated with deer and turkey hunting seasons. So, if you wish to avoid this, avoid visiting at these times. This unique CA has over 25,000 acres of total area, about half of which is a designated wildlife area and fenced off from the rest. It was once a logging operation and has some unique history as well as geographical features. Summertime is a great time to visit for those who are looking for a camping place away from the crowds.
Another example of a nice CA for camping at the other end of the state (northern Missouri) is Union Ridge just West of Kirksville. There, unlike most CA's, you can camp adjacent to area parking lots. Additionally, at "Parking Lot N" off of County Road D, there is a campground with similar facilities to those described at Peck Ranch. Again, things can be a bit hectic for non-hunters during deer season, but this area has more to offer than hunting. While not as big as Peck Ranch (around 8,000 acres), it has about 12 total acres of fishing lakes and ponds, including Union Ridge Lake. These lakes have populations of bass, crappie, catfish, and sunfish.
If you are camping at a CA, and you will want a campground, keep in mind that if there is a campground it will offer only "primitive camping" facilities. This means that you will have a fire ring, and perhaps a picnic table and/or outhouse. Having said this, some of these campgrounds are quite well maintained and in absolutely beautiful settings. Since some of these campgrounds are quite small, and there is no reservation system, you might wish to also be prepared to camp outside these areas.
If you choose to camp outside a campground at a CA, assuming this is allowed, keep in mind that you must be 100 yards from the nearest road or parking lot. Also, if you are camping along a stream or river, camp at least 100 feet away. Also, keep in mind that under certain weather conditions flooding or even flash flooding can be a danger.
To find a CA that meets your needs, a bit of research can go a long way. Fortunately, there are two very nice resources to aid you in this process. First, is the Missouri Conservation Atlas. This atlas is very helpful in that it gives area descriptions, maps, regulations, an outline of allowable activities, and of course, information on camping. Most of these have downloadable maps and/or brochures with trails, camping areas, and even driving directions to the area. The CA's in the atlas are searchable by name of the CA, county, or region. This process of switching back and forth from the CA to the atlas can be a bit laborious. You end up doing quite a lot of navigating back and forth between the atlas and the CA pages. The resource below might assist you in narrowing down the possibilities.
The possibilities for camping in Missouri Conservation Areas will greatly expand the pool of camping areas available to the Missouri camper. If you do not want or need the amenities of a "fancy" private campground or one run by another government agency, these areas might be just right for you.
The beautiful state of Missouri offers some of the most scenic camping in the Midwest. There are many campgrounds located throughout the rolling hills and jetting bluffs of Missouri and winding rivers are abundant in the Show Me State. These vary from Missouri State Park campsites to quaint mom-and-pop campgrounds. Whichever is your preference, one is sure to help you reconnect with nature when camping in Missouri. Whether a person is looking to rough it in a tent in a primitive campsite or load up the RV or camper, there is nothing as enjoyable then camping with family and friends.
Camping by one of the many Missouri rivers is a unique experience. Several of the campgrounds that are located by the rivers offer float trips by raft, kayak, inner tube or canoe. This has become a favorite pastime among several campers that vacation in Missouri. If a float trip is not up your alley and does not suit your style, many of the rivers have some of the best fishing in the Midwest and are just a few feet away from the campsites. Here a person can try their luck at catching smallmouth bass, bluegill or catfish, among many other native species.
If camping in a tent or camper is not your cup of tea, but you would still like to enjoy all the beautiful surroundings of nature, many campgrounds also have cabins for rent. These rustic style cabins usually come with all that a person needs to enjoy a few days or possibly up to a week at a campground. Generally, all you have to bring is food, towels and bedding and a sense of adventure, the rest can be left to the imagination.
Many of the Missouri campgrounds have winding scenic hiking trails that are just begging to be explored. Bird watchers and amateur botanists delight at the plethora of plants and animals. Some native species of birds are found in Missouri, such as cardinals, blue jays and finches which can be witnessed flying among the towering oaks and lofty maple trees that provide much needed shade on the trails during the summer time. It is also quite common for people to see many other species of wildlife such as deer, foxes, coyotes and raccoons in and around the campground living in their natural habitat without even having to leave the comfort of a lawn chair.
Camping in Missouri is great way to teach children about nature and conservation first hand. Being outdoors amongst nature makes the perfect classroom for children of all ages. Many of the campgrounds encourage their guests to learn about the native species that they will see while camping in Missouri. Park employees and tour guides often pass out brochures upon arrival or post signs throughout the property informing campers of what type of species live in and around the campground. Employees, park rangers and owners of the campgrounds are more than happy to share a wealth of information with guests about the indigenous wildlife and can usually tell you where they best places and times of day you are likely to see them.
If bird watching is not on your top ten lists of things to do, many of the state parks and campgrounds offer areas for recreation. Softball diamonds, soccer fields, horseshoe pits and disc golf or sometimes it can be called Frisbee golf courses are located in many of the campgrounds and a fun way to spend an afternoon playing with family, friends and other campers. Missouri campgrounds not only provide beautiful scenery, interesting activities and wildlife at its best, it also provides families with time for relaxation and bonding.
In the evening campers can be seen gathered around campfires and socializing under the stars. The smell of roasting hot dogs and marshmallows over an open flame waft throughout the campsites as campers relax after an exciting day exploring nature. Owls and crickets can be heard singing, while lightening bugs twinkle their soft yellow glow and dance through the cool night air in the distance, it is the ultimate time to sit back and appreciate all the beauty of nature.
Visitors that have camped in Missouri can tell you that there is no other place like it on Earth. The Show Me State has so much to offer in terms of activities for the seasoned camper to the beginner and anywhere in between.
Missouri offers some of the best float trips and camping in the country. Have fun, enjoy the weather and sleep in the Missouri countryside.