The Missouri Ozarks are a world-class fishing destination that somehow has managed to slip under the radar. When people think about fishing the Ozark region at all, they usually are thinking about the Arkansas portion: the trout-filled White River, or maybe the trophy bass fishing on Bull Shoals or Norfork Lake . But over half of the Ozark Plateau is actually in Missouri, and this part of the region has some incredible, if underrated fishing destinations.
The Ozarks. This is a land of charming beauty, of floating streams full of smallmouth bass, of peaceful camps on the gravel bar. The Ozarks are called mountains, but I have to admit it's debatable whether they really are. It doesn't matter though. Whether they're big hills or little mountains, this is a place that pulls you in, that grows on you. The hills (or mountains) are rolling and heavily forested. They are at their prettiest in April and May, when the Dogwoods and Redbuds are in bloom, but they're beautiful all year long. At first glance you might think to yourself that the Ozarks are kind of unimpressive compared to the Rockies or the Appalachians, but soon you'll love the area, and you'll want to keep coming back every chance you get.
If you choose to take a trip to the Missouri Ozarks, you have a wide range of species to target. Probably our most abundant and popular game fish is the smallmouth bass, but we also have excellent fishing for rainbow and brown trout, largemouth bass, various species of catfish, panfish, and even walleye. There are also a tremendous variety of water types, everything from huge reservoirs to small spring-fed streams. While it would take an entire book to detail even a third or a half of the good fishing destinations in the Missouri Ozarks, I'll try to highlight some of the best opportunities here.
Stream Fishing
To me, fishing the Ozark region is all about a float down a beautiful, remote river, paddling under towering bluffs, relaxing, and catching smallmouth bass or trout until my arms are tired. I know that the Ozarks have excellent lake fishing, but I spend the vast majority of my time in the Ozarks fishing flowing water, the clear, spring-fed rivers and creeks that are the life-blood of the region. An Ozark stream is something that is so unique, something that you just can't find anywhere else. They are almost all heavily fed by springs, and have a greenish blue tint to them you'd expect to find in the Caribbean, not on a freshwater river. For the most part stream fishing in the Ozarks is all about smallmouth bass. Smallmouth bass are native to the region, and are found in just about every flowing water that has any pools over two or three feet deep. You aren't likely to catch a world record smallie in the Ozarks though. It's all about the abundance of a truly native and wild fish, the pleasure of being able to catch something that actually belongs there. Just about all the smallmouth streams also have goggle-eye (known as Rock Bass anywhere north of here) and longear sunfish. Multiple species days are the rule, not the exception. The Ozarks also have some fantastic trout water on the most spring-fed portions of the rivers. Both stocked and wild trout inhabit these waters and really round out the fishing opportunities in the region.
Smallmouth Bass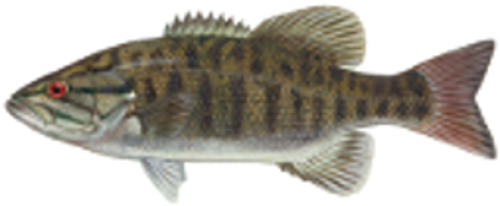 Smallmouth bass fishing is world-class in the Ozarks. The great rivers of Missouri don't get the recognition they deserve, but for sheer numbers of native smallmouth, they can compete with any smallmouth waters in the world. The best smallmouth streams are mostly medium sized, spring-fed rivers that flow through forests and under bluffs, through wild and remote country. Here are some the best.
Jacks Fork River
The Jacks Fork River is a classic wild Ozark stream. This river, which is part of the Ozark National Scenic Riverways, flows through some of the most remote country in the state and has excellent smallmouth bass angling. The upper reaches of the river flow through a small, shallow canyon, and provide the most difficult floating and the best smallmouth bass fishing on the river. The Jacks Fork is small, narrow, and fast in this section, and any floater will have some difficult Class II whitewater chutes to deal with, deadfall to portage, and riffles to drag through. The results come in terms of big smallmouth bass that don't see much pressure. The lower reaches of the river are much more accessible and easy to float. Not surprisingly, the fishing isn't quite as good, but there are still plenty of bass to be caught.
Meramec River
This is the home water of about a million people. The river flows right through St. Louis, and the quality smallmouth waters are only about an hour to an hour and a half way from the big city. It should be no surprise the Meramec sees its share of floaters and fisherman. It can be a real zoo on summer weekends. But the smallmouth are in there in excellent numbers, and seem impervious to the pressure. The river has great access, and can be waded or floated. As a bonus, there is also some decent fishing for stocked trout in the first 4-5 miles below where Maramec Spring dumps its cold water.
Black River
The jewel of Southeastern Missouri. This classic Ozark stream flows out of the St. Francois Mountains (the highest peaks in the state). The upper reaches of the river and its three forks above Clearwater Lake run fast and cool, and hold good populations of smallmouth bass, as well as catfish and goggle-eye. This river is a very popular floating river, but not many people fish it seriously. On a river as clear as this, the bass can sometimes be hard to fool, so bring you're A game. Other St. Francois Mountain streams to try for smallies include the upper St. Francis, Big Creek, and Marble Creek. These are all mountain streams that flow through some of the most ruggedly beautiful country in the state.
Big Piney River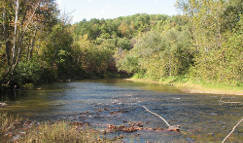 The Big Piney is an undiscovered gem, mostly because it runs through such remote country. This river, which flows through Mark Twain National Forest, is about as pretty as they come. Huge bluffs tower above the blue-green water of the river. The river has many long, slow pools that are full of goggle-eye and sunfish, but it's the riffles and rocky runs where you find the smallmouth. On a decent summer day, you can catch about as many smallmouth bass as you want, but they usually aren't big. Your average fish is between eight and fifteen inches, with a really good one being a two or three pounder. This is a river for a multiple day float with camp on a gravel bar. With the scenery and the fast fishing, you'll never want to leave. Just watch the weather to make sure you won't be caught out in a thunderstorm. This river can really flash flood.
Trout Fishing
Let's just get this out of the way: the Ozarks are not a world-class trout fishing destination. With that said, the Ozarks do have some fine trout water. You can find everything from large rivers holding trophy browns to tiny, jump across creeks full of small wild rainbows. With the exception of one tailwater (Lake Taneycomo) all Missouri trout waters are heavily spring-fed. Springs in Missouri run 55-58 degrees year-round, keeping the first few miles below the big springs cold enough for year-round trout fishing. Missouri has 20 year-round, publicly accessible trout streams. None of them will be giving the Madison or the San Juan a run for their money anytime soon, but all of them have that special beauty that you can only find on a spring-fed Ozark stream. And some of them are exceptionally productive.
Current River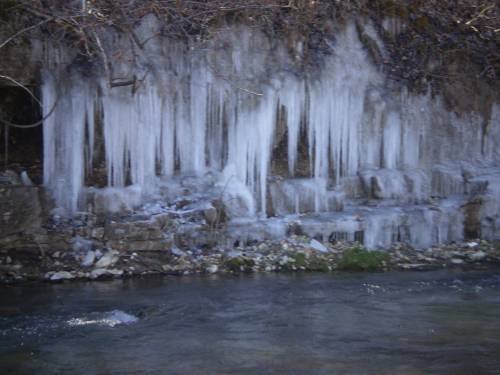 I think that any discussion of trout fishing in Missouri has to begin with the upper Current. This river rises from springs in Montauk State Park, and stays cold enough for trout for a much longer distance than most Missouri trout streams. The upper twenty miles of this river where the trout fishing takes place has so much character, everything from fast, rocky pocket water where the rainbows feed opportunistically to long, slow flats where you'd better be a fine fisherman to land the selective browns. The great thing about the Current is that it has something for everyone. The first three miles flow through Montauk State Park, a state trout park where rainbows are stocked everyday from March 1-October 31. This is easy fishing for 10-14 inch rainbows, a great place to learn to fish for trout. There is a mile long fly fishing only section, but the majority of the water is open for all baits and lures. Below the park the Current falls under Blue Ribbon regulations. This is where the real fun starts. This section is stocked annually with browns, and also has wild trout and holdover rainbows that have migrated down from the park. The trout park crowds thin out, and the rainbows and browns grow larger under more restrictive regulations. About three hundred trout inhabit each mile of the river, a relatively unremarkable figure until you realize that the Current is a small stream. There are always more than enough trout to go around, with a good number of fish over twenty inches. This is classic fly fishing water, but spin fisherman can do well too. This is a small, relatively shallow stream with good hatches, and is perfect for dry fly fisherman. That said, nymphs and egg patterns consistently take more fish. Below the nine mile Blue Ribbon section there is another seven miles of put and take trout habitat which isn't as productive, but is nonetheless fun to fish. Below there it's all about smallmouth bass. Most people wade-fish the Current, but it can also be floated. This is one of the prettiest rivers in the state.
Eleven Point River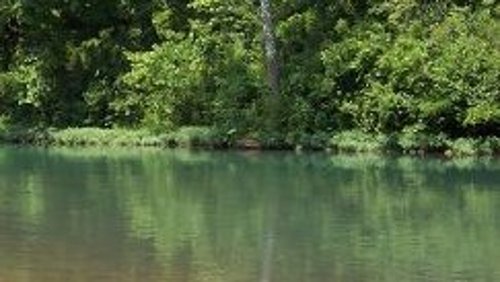 Your classic float and fish trout stream. The Eleven Point, like the Current, has twenty miles of good trout water. The trout fishing begins at Greer Spring, which makes the river nice and cold. There are a few places to wade, but you really need to float this river. This is big water, deep and fast in some places, shallow and wide in others. Unlike the Current, you probably won't find the fish rising daintily to a caddis or mayfly hatch. These fish are deep, near the bottom, and that's where you should be fishing. Heavy stonefly nymphs, streamers, Copper Johns, San Juan Worms, egg patterns, it's all good. Just get it down deep and you've won half the battle. The best water is the five mile stretch between Greer Spring and Turner Mill, as fine a trout fishing float as you can find anywhere east of the Rockies. The fish are primarily strong, thick rainbows in the 10-14 inch range, with a few real trophies. The Blue Ribbon portion has a healthy wild trout population augmented by annual stockings. This is Blue Ribbon water, artificials only with a length limit of 18 inches. Below Turner Mill for another 15 miles to the Highway 160 Bridge at Riverton, the river is a put and take stream, with lots of stocked rainbows and anglers targeting them with spinners, minnows, and worms. Above and below the trout water you'll find excellent smallmouth fishing. This is a National Wild and Scenic River, and you won't find a better or more wild setting anywhere in the Midwest. A great adventure is to take three days and float the whole trout portion, camping on gravel bars along the way. The river is not a terribly challenging float, but it does have some difficult class II chutes that can be tough for inexperienced canoeists. Mary Deckar about a mile above Turner Mill, and Halls Bay, about a mile above the 160 Bridge are the most challenging and border on Class III. They aren't really dangerous at normal water levels if you're careful, but don't try the Eleven Point when the water is high unless you are an experienced paddler.
North Fork of the White River
The North Fork is a western trout river that somehow found its way to south-central Missouri. This brawling spring-fed river is populated primarily by wild rainbow trout to the tune of nearly 1000 per mile. The place to catch them is in the fast riffles and pocket water, the heavy water that makes wading difficult. Like the Eleven Point, this is primarily a float-fishing river, but there are actually some good wading opportunities as well if you don't mind the slick rocks. The river has 14 miles of trout water in Missouri, starting at Rainbow Spring extending down nearly to where it dumps into Norfork Lake. The upper half of the trout water holds wild rainbows almost exclusively. The lower half also has stocked browns. This is a deep nymphing river for the most part. The staple food here is stonefly nymphs, so generally that is what you should be fishing with. Big streamers are also known to work very well for the trophy browns. While floating the North Fork, make sure to look at the scenery, because it is amazing. Forested mountains, bluffs, spring-fed river, you've got it all here. And yes, this is the same North Fork River that is a world famous trout tailwater in Arkansas. But the freestone portion in Missouri acts and fishes like a completely different stream, and is much less famous, despite being nearly as productive.
Wild Trout Fishing
You wouldn't expect to find good wild trout fishing in a state like Missouri. I mean, you're in the lower Midwest, trout aren't native, and most coldwater fisheries are maintained by stocking. But Missouri does have some fine fishing for wild rainbows throughout the Ozark region. Most of our wild trout streams are small, and the fish on those waters will average between five and ten inches, with any fish over a foot long being worth getting excited about. These small streams often offer the best dry fly fishing in the state. The small water makes it easy for fish to key in on the surface, and the wild trout. There are times when you can't take them on top, but small nymphs fill in the gaps. When you fish these streams, think in terms of exercise (because you'll need to do some walking to reach the best water), scenery, and beautiful small trout. Some good wild trout streams include Crane Creek near Springfield, Little Piney, Mill, and Spring Creek near Rolla, and Blue Spring Creek near Bourbon. All of these fisheries are under Blue Ribbon regulations, meaning a length limit of 18" and artificials only. That essentially means catch and release only on these little creeks.
Other Streams to Try
As I mentioned earlier, it's impossible to mention every stream in the region that you can wet a line in. But in addition to the ones already detailed, here are some other streams that are worth a visit.
Gasconade River: Flows from near Springfield in Southwest Missouri to the Missouri River in East-central Missouri. This is the longest river that flows entirely through the state. Smallmouth bass are the main target but you'll also find largemouth bass, spotted bass, catfish, panfish, and a few walleye. This is another classic floating stream.
Roubidoux Creek: A tributary to the middle Gasconade. It flows right through Waynesville, on Highway 44. The best fishing is on the lower three miles of the creek below Roubidoux Spring a little ways below the I-44 Bridge. This is a stocked trout stream with good populations of rainbows and browns, with some warm-water species as well. Trout fishing is best from October to early June, with smallmouth bass providing plenty of fun through the summer months. Access is excellent, but the stream can get crowded, especially soon after trout stockings. Flowing right through a town and so near the interstate, it's not really a destination fishery for most. Definitely worth a stop if you're going right past it on I-44.
Osage River: This is the largest Ozark stream in its most productive lower reaches below Bagnell Dam. Warm, slow, and wide, this river fishes well for white bass, hybrid stripers, largemouth bass, and catfish (some of which grow very large.) The upper river above Truman Lake is good for a variety of black bass, including smallmouth, spotted bass, and largemouth. If your like big water and big fish, this is your spot.
Huzzah Creek-A tributary of the Meramec River near Sullivan, this stream is high quality smallmouth water. It is a popular float stream with several canoe rentals servicing it, making it crowded on summer weekends.
Niangua River/Bennett Spring: Bennett Spring is the most popular trout park in the state. This is crowded fishing for lots of stocked trout, but in a beautiful setting. The 1 1/2 mile long spring branch is separated into three zones to accommodate fly, spin, and bait anglers. The Niangua River below the mouth of the spring is stocked with trout for ten miles, and the rest of the river is good for smallmouth bass and panfish. The Niangua and Bennett Spring are located in Southwest Missouri near Lebanon. The Niangua eventually flows into the Osage River at the Lake of the Ozarks.
Elk River/Big Sugar Creek/Indian Creek: Three streams in extreme Southwestern Missouri, near the border of Arkansas and Oklahoma. All are productive options for smallmouth bass and panfish.
Shoal Creek/Capps Creek/Hickory Creek- The Shoal Creek drainage in Southwest Missouri around Neosho is often overlooked, but provides some fine fishing opportunities. Shoal Creek is a floating stream with good angling for smallmouth and spotted bass. Capps Creek is a pretty, classic spring creek with a good population of stocked rainbow trout. Hickory Creek flows right through Neosho, and offers in town opportunities for stocked trout. All three fisheries have good public access.
James River: The James flows through Springfield, on down into Table Rock Lake. The river above and below Springfield produces very well for smallmouth bass, largemouth bass, and panfish. White bass and walleye also run into the lower river in spring. Finley Creek is another worthwhile fishing option in the watershed, also good for smallmouth and panfish.
Bryant Creek: A tributary to the North Fork that is perfect for multiple day camp and fish trips. This is a floating river full of feisty smallmouth.
James River: The James flows through Springfield, on down into Table Rock Lake. The river above and below Springfield produces very well for smallmouth bass, largemouth bass, and panfish. White bass and walleye also run into the lower river in spring. Finley Creek is another worthwhile fishing option in the watershed, also good for smallmouth and panfish.
Bryant Creek: A tributary to the North Fork that is perfect for multiple day camp and fish trips. This is a floating river full of feisty smallmouth.
Fishing Ozarks Region Lakes
In my opinion, the most enjoyable fishing in the Ozarks centers around the spring-fed rivers, creeks, and streams that course through the region, but the Ozarks also have some fantastic lake fishing. There are several very large lakes in the Ozarks including Table Rock, Stockton, and Pomme de Terre, but there are also many small lakes in the region that offer fine fishing in a more quiet, secluded environment. Ozark lakes, like our rivers, tend to be very scenic. These are not muddy, shallow impoundments like you might find in other parts of the state, but clear, cool lakes ringed by hills and small mountains. The fishing on almost all stillwaters in the area is good for black bass (largemouth, smallmouth, and spotted), with good opportunities for walleye, white bass, crappie, panfish, trout, and other species. Here are some of the better big and small lakes in the region.
Table Rock Lake
This large White River reservoir south of Springfield is probably the most popular and most productive lake fishery in the Missouri Ozarks. This lake is set in stunningly beautiful Ozark country, and has excellent fishing for largemouth, smallmouth, and spotted bass, as well as crappie, hybrid striper, white bass, walleye, catfish, and even a few trout. What more could you ask for? Bank fishing is productive for panfish and catfish, but for most of the other species you'll probably need a boat, the only real downside to this fishery. This lake is especially known for its world-class black bass fishery, and often hosts national tournaments. This is maybe the best bass lake in the Midwest region. In this clear lake, fish tend to hold in deeper water, generally between 15 and 30 feet.
Bull Shoals Lake
The deep, big water portions of Bull Shoals is located in Arkansas, but the Missouri portion has arguably the best fishing on the lake. The "Pothole" below Powersite Dam on the upper reaches of the lake is a riverine environment that allows bank fisherman to be very successful for all the species that swim in the lake. Walleye, rainbow trout, and white bass are the most popular species in this multi-species fishery, but other every other species that swims in the lake can be caught as well. As you move down closer to the Arkansas line, Bull Shoals becomes more of a traditional reservoir, and has black bass fishing that rivals Table Rock.
Lake Taneycomo
First off, when you see Taneycomo, you're going to think this isn't a lake, it's a river. And for fisherman's purposes, it is. Taneycomo is the tailwater below Table Rock Dam, and offers fine fishing for rainbow and brown trout. There is a two mile long special regulations area below the dam that offers excellent wade fishing for large rainbow and brown trout. This is a year-round fishery, where the fishing conditions aren't all that much different in January and July. Normal tailwater tactics are used in this part of the lake, with scud patterns, midges, and other small, subsurface fair often being the best bet. But when a lot of water is being pushed through Table Rock Dam, it's time to get out the meaty flies. Sculpin streamers, marabou jigs, and San Juan Worms often produce then. Below the trophy area, the lake fishes well, but it is largely a put and take fisherman. The majority of folks in the lower lake use Powerbait, worms, and other live bait, but flies and spinners can also get it done. This lake is near Branson, and is heavily developed. That puts a lot of people off, including myself. But you can't argue that this is one of the more productive trout lakes in the lower 48. Public access is good in the special regulations area, but not so much further downlake. Wade fishing is very manageable in the special regulation water as long as the flow is reasonable, while boats, canoes, or other watercraft are generally used on the lower lake.
Fishing Smaller Ponds and Lakes of the Ozarks
The Ozarks is home to many smaller lakes and ponds. These tend to be perfect miniatures of the big reservoirs, although in more quiet, secluded surroundings. Many of these lakes are on private land, and are off limits. But the Missouri Department of Conservation and Mark Twain National Forest offer access to some great ponds and lakes.
Council Bluff Lake- This lake at the headwaters of the Big River in Southeastern Missouri offers fine fishing for largemouth bass and panfish in a pretty mountain setting. The lake is very clear, even by Ozark standards, so much so that it can make fishing difficult. But the rewards are very good for the bass and the panfish. In Mark Twain National Forest
Crane Lake-This lake is one of the most scenic anywhere in the state. Right in the heart of Southeastern Missouri St. Francois Mountains, this lake provides good fishing for bass and panfish in an environment that will remind you of somewhere in the north woods. Tall pine trees ring much of the lake, furthering this impression. This lake is also on Forest Service property and is easily accessible.
Loggers Lake-This Mark Twain National Forest lake in the Salem Plateau of South-central Missouri is spring-fed, cool, and beautiful. Beautiful pine forests surround the lake. Anglers can target smallmouth bass in its chilly waters, along with largemouth bass and panfish.
McCormack Lake- This lake adjacent to the Eleven Point River is a weedy one, but offers decent fishing for largemouth bass and panfish. This National Forest lake is very pretty in a mountainous, woodland setting. That is its main draw, as the Eleven Point just down the road offers much better fishing. This is as remote as it gets in Missouri. If you visit McCormack Lake, make sure to visit nearby Greer Spring, one of the largest and most majestic anywhere in the country. For a great experience, camp here and fish the lake for bass, and wade the Eleven Point around the Highway 19 Bridge for trout.
Fourche Lake- Yet another beautiful and remote mountain lake in Mark Twain National Forest. This is near both the Eleven Point and the Current. The lake, like all the others mentioned, fishes well for bass and panfish. Primitive camping is available around the lake.
Roby Lake-This lake on the edge of Paddy Creek Wilderness south of Rolla provides angling for bass, panfish, and catfish. Camping is available on the lake. This is a good base camp for hiking in the wilderness area. Smallmouth bass fishing on the Big Piney River is available nearby.
That is just a small sampling of some of the great fishing waters available in the Missouri Ozarks. But this should give you a good place to start, a few fisheries to plan trips too. The Missouri Ozarks aren't a well known fishing destination, but they deserve to be. The lack of recognition is okay though. More for you and me, right?