Missouri offers some of the country's best deer hunting. Whether you prefer to hunt the corn and soybean fields in Northern Missouri for big bucks of the vast tracts of public land in the Ozarks, there is something for everyone here. In between lies a great variety of deer habitat, from plains and woodlands to glades and old fields.
For trophy hunters, the northern and central parts of Missouri offer the best opportunites. This is because these areas have large amounts of corn, soybeans, and other deer feeding crops. The deer grow large quickly with all this forage, and some of the country's largest bucks can be found here. Also, the deer numbers are at their highest in this part of the state. The only drawback is the lack of large tracts of public land. There is public land to hunt on, and good deer can be taken on these areas, but they tend to be somewhat crowded. Still, this part of the state offers the most abundant opportunities to the deer hunter. Union Ridge Conservation area, Sugar Creek Conservation, and the Corp of Engineer land around Truman Lake are among the best public hunting areas in this region.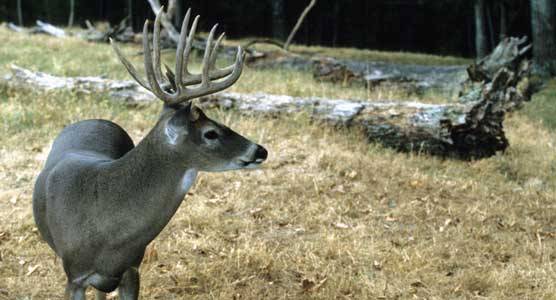 On the other end of the scale lies the rugged Ozark region. This is a vast, forested, mountainous area. The primary food source here are acorns and other mast. While these food sources sustain a very respectable deer population, the area just isn't as fertile as the northern and central regions of our state. Deer don't grow as large, and there aren't as many of them. Hunting is a big-woods game. Deer move around a lot, and so does a successful hunter. Also, while crops are a rarity in the region, any planted fields will draw good numbers of deer, especially in a poor acorn year. There are two great advantages to this region. First is the beautiful scenery. The Ozark mountains are among the most charming in the country, and during the fall deer season, they are at their most beautiful. Second is the massive tracts of public land in the area. It is relatively easy to find a secluded place to hunt. Good public hunting areas include the vast Mark Twain National Forest, the Ozark National Scenic Riverways, and Sunklands Conservation area. A good set of legs and a sharp eye for habitat are the most important attributes of a successful Ozark deer hunter.
Fancy equipment isn't necessary to be a successful deer hunter in Missouri. For one thing, our state is mostly wooded and thick, so long-range shots aren't a reality for most deer hunters. Many good deer hunters in Missouri are armed with nothing more than an open-sighted lever action rifle. This rings especially true in the wooded southern half of our state, where shots longer than 100 yards are truly the exception to the rule. Tree stands are another piece of equipment often used by Missouri deer hunters. They are not a necessity as some claim.;many a successful hunter goes doesn't use them. But they are helpful. Usable models can be bought for about $100. But it's important to not always rely on a tree stand. In some of the big woods areas of the Ozarks, for example, hunters need to move around to have consistent success. In this case, the stealthy still hunter will do beter than the person who hunts from a tree stand.
This is just a basic introducton to deer hunting in Missouri. There is absolutely no substitution for time in the field and a couple of good scouting trips before the hunt. Still, this article lays out the basic ideas of deer hunting in Missouri. Get out there this season and see what you can find!